Yadoriki Natural Recreation Village Center
寄自然休養村管理センター
BBQ
For BBQ one block costs 2,000 yen with a long bench and table available. Additionally 1,400 yen for charcoal and kindling, 500 yen each for firewood, iron net and iron plate. Food also available by phone (0465-89-2919) at Miyama Hamazen (for a minimum of 10 people). However, you can also bring your own food and drinks. Reservation necessary 3 days before.

*Please note that overnight staying guests have priority to reserve the BBQ area.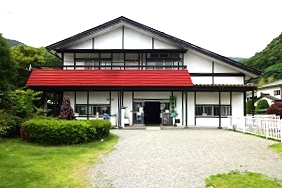 Address

Yadoriki Natural Recreation Village Center, Yadoriki 3415 Matsuda, Ashigarakami-Gun Kanagawa, JAPAN
Open

Open all year around
Holiday

Closed Monday afternoons, Tuesday, following days of national holidays, from Dec. 28 through Jan. 3.
Phone

+81 0465-89-2960
Fee

Prices starting from 2,000 yen
Other

Parking lot