Yadoriki Natural Recreation Village Center
寄自然休養村管理センター
Guest houses
It is located close to bus stop "Yadoriki". Sight seeing info is available here for Yadoriki area with pamphlets and others. Reservation for tennis courts and athletic field is possible here. Overnight stay is also available. Fresh vegetables harvested directly from the field is also available.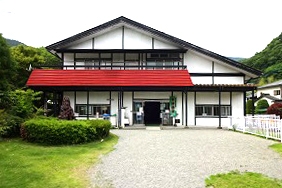 Address

Yadoriki Natural Recreation Village Center, Yadoriki 3415 Matsuda, Ashigarakami-Gun Kanagawa, JAPAN
Open

Open all year around
Holiday

Closed Monday afternoons, Tuesdays, following days of after national holidays, from Dec. 28 through Jan. 3.
Phone

+81 465-89-2960
Fee

Room charge 4,000 JPY / night for minimum 3 persons. Additional 2,800 JPY for dinner and breakfast per person.
Other

Parking lot